Finding high-quality music might be difficult whether you make content for YouTube, podcasts, movies, or other types of digital media. In response, Epidemic Sound is utilized. An extensive library of music, sound effects, and other audio elements is made available to developers by this platform, a music licensing and distribution business. 
In this post, we'll give a thorough analysis of Epidemic Sound, including its meaning,  features, functions, and pricing alternatives.
What is Epidemic Sound?
In addition to offering composers access to a collection of over 30,000 tracks, the Swedish company – Epidemic Sound also offers sound effects and other audio components. It offers a distinctive subscription-based strategy, in contrast to conventional music licensing services, that enables creators to access its complete catalog without paying additional license fees. As a result, multimedia producers can use music from this patform without worrying about copyright violations or licensing costs.
Epidemic Sound Sign Up
If you're interested in signing up for Epidemic Sound, here are the steps you need to follow
Step 1: Start by visiting the Epidemic Sound website
Step 2: There are several subscription options available, including Personal and Commercial. Click "Start free trial" after selecting the plan that best meets your needs.

Step 3: You must register for an account after choosing your plan. Using your email address will let you sign up.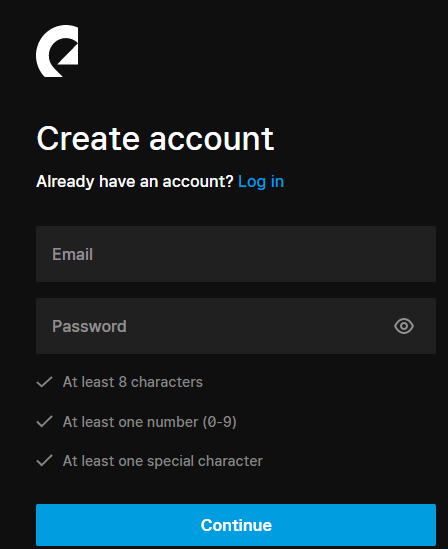 Step 4: You must provide your payment information after creating your a free month account in order to finish the registration process.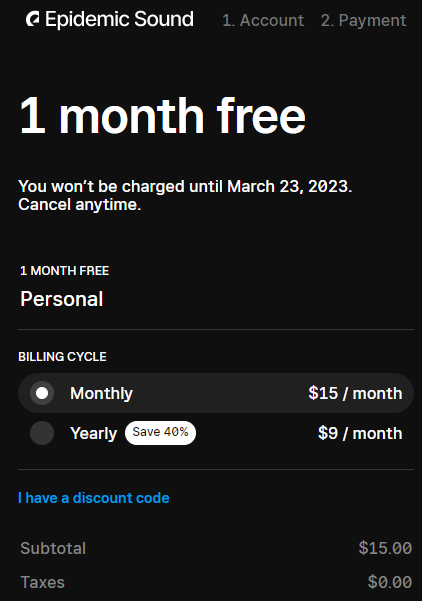 Payment options accepted include credit cards, PayPal, and bank transfers.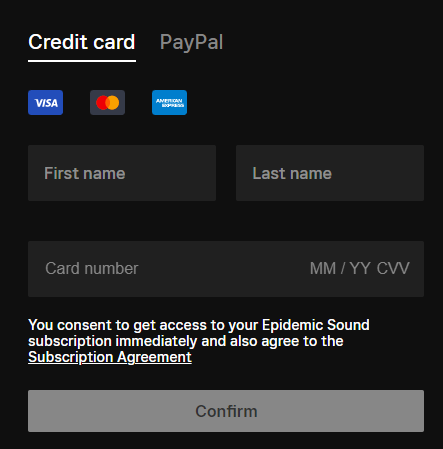 Step 5: Once you've signed up, you may put the app on your phone or tablet. Android, iOS, Windows, and macOS devices can all use the program.
Step 6: You may use this platform to access their music and sound effects library for your movies, podcasts, and other creative endeavors once you've downloaded the app.
After one-month using for free, you could pay money for these following price.

Epidemic Sound Music Library
The extensive music collection is one of its key benefits. The collection has more than 30,000 recordings in a range of genres, including pop, rock, electronic, hip hop, and more. Also, new tracks are frequently added to the catalog, giving composers access to the most recent tunes.
Finding the appropriate music for your project is also made simple by the music library, which is arranged. The ability to search for music by genre, mood, and tempo is available, and each track is tagged with illustrative keywords to improve the effectiveness of your search.
Epidemic Sound Licensing Options
To meet the needs of various sorts of creators, it provides a variety of licensing alternatives. The Creator Membership, which costs a monthly charge, is its primary licensing option and gives creators access to the complete music collection. The commercial license that comes with this membership allows you to use music in projects for profit.
It provides a Custom License option, which enables creators to use music in a particular project, for those who require additional control. This license is perfect for TV and film productions as well as other tasks that call for unique sounds.
Conclusion 
Epidemic Sound is a full-service music licensing and distribution company that offers creators access to a sizable music library, user-friendly search tools, and competitive pricing. It simple for creators to select the ideal music for their projects without worrying about licensing costs or copyright violation thanks to its subscription-based approach and commercial license. 
In order to uplift your work, if you're a content creator seeking top-notch music and sound effects, sign up for Epidemic Sound today.
If you found the information provided to be helpful, please consider giving it a like, sharing it with others, and following us for updates on future guides.