You may have come across Vecteezy if you're a designer or company looking for high-quality vector graphics materials. This online resource provides access to a vast library of vector graphics, including patterns, icons, logos, and pictures.
In order to assist you decide if Vecteezy is the best option for your design requirements, we'll examine the platform's main features, pricing options, and user opinions in more detail in this review.
What is Vecteezy?
The web site provides designers and companies with access to a huge range of vector graphics resources. It is possible to scale up or down vector graphics without losing resolution since they are made up of points, lines, and curves. The portal offers a large selection of vector images, including illustrations, icons, logos, and patterns, all of which are categorized to make it simple for users to locate what they're looking for. In order to help users easily generate original ideas, It also provides editable graphics that can be altered using programs like Adobe Illustrator.
Vecteezy Sign Up
There are steps to sign up Vecteezy account:
Step 1: Go to the Vecteezy website

Step 2: Click the "Sign Up" button located in the upper right corner of the page.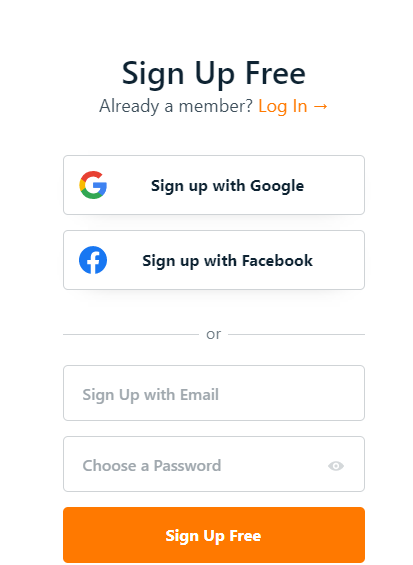 Step 3: Fill out the registration form by providing your email address, and a password. You can also sign up using your Facebook or Google account which is very fast.
As for sign up by email:
Step 4: Read the terms of service and privacy policy, and then check the box to indicate that you agree to them.
Step 5: Click the "Sign Up" button to create your account.
Step 6: You will receive a confirmation email from the platform. Click the link in the email to verify your account.
Step 7: Once your account is verified, you can log in to Vecteezy and start using the site.
As for sign up by link to Google or Facebook
Step 4: After a second, you will receive survey question, please choose right purpose and submit,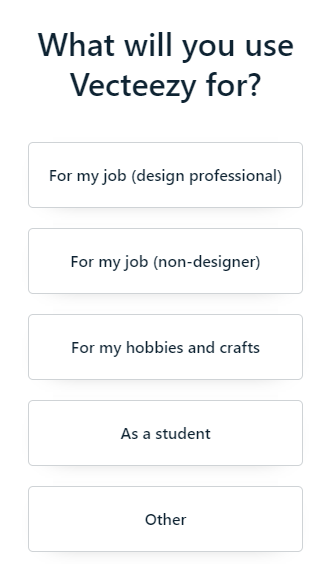 Step 5: After submitting, you could access all features of the website.
Vecteezy Pricing
Both free and paid options are available on this paltform. Their pricing is broken down as follows:
Free plan – This plan is totally free and gives you access to a constrained number of the library items. Up to five assets may be downloaded each day.
Pro plan -If purchased yearly, this plan would cost you $4.5 instead of $7.0 per month. It offers unrestricted downloads, access to the whole Vecteezy library, and a license that permits the usage of the assets for commercial purposes.

Vecteezy Features
While looking for high-quality vector graphics and design tools, designers and producers frequently choose Vecteezy because of its many capabilities. It has a number of important features, including:
Large Collection of Vector Graphics: A vast selection of top-notch vector graphics, icons, images, and other design tools are available on Vecteezy. Around one million assets are in their library, and they frequently add new designs.
Royalty-Free Content: Vecteezy offers royalty-free graphics and design tools that you are welcome to use in both personal and professional projects without paying extra or providing any sort of credit.
Easy-to-Use Search: Vecteezy has a powerful search feature that makes it easy to find the graphics you need. You can search by keywords, color, style, and more.
Customizable Design Resources: Vecteezy offers a variety of design resources that are freely editable, allowing you to adapt them to your unique requirements.
User-Generated Content: Users of Vecteezy can also upload their own designs, which other users can share and download.
Free and Paid Options: Both free and paid membership options are available on Vecteezy. While paying members have access to the entire library of design resources, free members can only access a small number of visuals.
Integrations: Vecteezy's visuals connects with well-known design programs like Adobe Illustrator and Photoshop.
Conclusion
Vecteezy is a great resource for designers and companies looking for high-quality, user-friendly, customisable vector graphics tools. Vecteezy comes highly recommended for anyone wishing to boost their creative work with gorgeous vector graphics because of its affordable pricing options, user-friendly UI, and excellent reviews. Sign up an account to get the best graphic for your project. 
If you found the information provided to be helpful, please consider giving it a like, sharing it with others, and following us for updates on future guides.
Goodluck!