Popular online resource PNGTree provides a large selection of top-notch graphic design resources, such as images, drawings, vectors, templates, and more. It is a one-stop shop for designers, marketers, and company owners looking to improve their creative endeavors, with over 65 million creative assets available. 
In order to help you decide if PNGTree is the best platform for you, we will explain what it is, how to sign up, and the pricing options in this post.
What is PNGTree?
For designers and other creatives, PNGTree is a comprehensive platform that provides access to a huge library of design resources, including graphics, templates, illustrations, and more. Regardless of their level of experience, the platform is made to assist companies and people in creating aesthetically attractive designs.
One of its main benefits of this website is the large selection of assets. The portal makes it simple to find the ideal design element for your project thanks to its vast selection of stock pictures, drawings, vectors, and templates. Furthermore, PNGTree provides a user-friendly interface that makes it simple and quick to search for, preview, and download materials.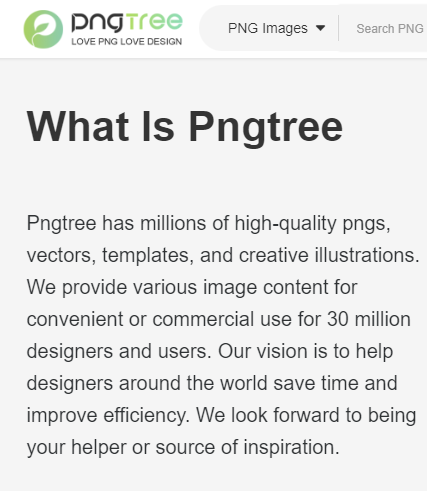 PNGTree Sign Up
Step 1: Go to the PNGTree website

Step 2: Click on the "Sign Up" button located in the top right corner of the page.
Step 3: To create, users could apply an account using either your email address or social media accounts such as Facebook, Google, or Twitter.
Step 4: Click to "Continue to Google" once choosing sign-up with gmail
Step 5: Click to the suitable gmail account, just a second, you complete the sign-up process.
PNGTree Pricing
PNGTree offers a vast library of high-quality graphic design materials, including pictures, vectors, drawings, and templates. The platform provides a variety of subscription options to suit various requirements and price ranges. The quantity of downloads needed determines the subscription options, with the free plan. This allows two downloads per day and the team plan permitting up to 500 downloads per month. Unlimited access to their library of resources and commercial usage rights are included with all subscription tiers.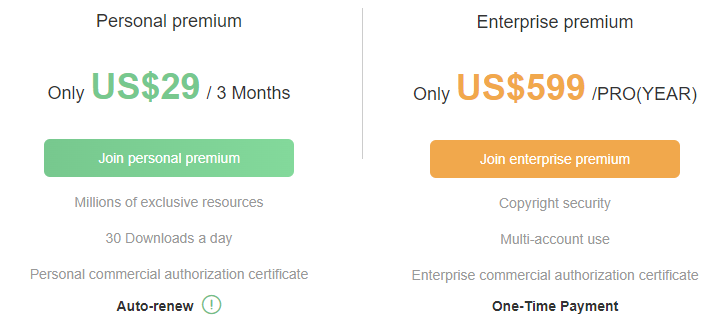 You could choose various to pay money.

A 7-day money-back guarantee is another feature that makes using a risk-free way to test out its resources and services. With competitive pricing and excellent value, PNGTree is a highly recommended resource for designers and businesses looking for quality design assets.
PNGTree Features
Here are some of the key features that make PNGTree an excellent choice for accessing high-quality design resources:
Extensive Library of Design Assets: A huge collection of over 17 million high-quality design assets, including images, vectors, drawings, icons, and templates, are available from this platform. To make it simple for you to find what you need, the assets have been divided up into a number of categories.
Easy-to-Use Interface: The PNGTree website's user-friendly interface makes it simple to navigate and find the resources you need. By limiting your search and choosing the best asset for your project from the search results, you may do so by sorting them according to category, color, orientation, and size.
Customizable Templates: In order to make it simple for you to create your own designs, it offers modifiable templates. Change the templates with software like Adobe Photoshop or Illustrator to create your own designs.
Commercial Usage Rights: All PNGTree assets have commercial usage rights. And so you can use them in your projects for profit without worrying that you'll break the law.
Subscription Plans: A variety of subscription packages are available to suit various requirements and price ranges. You can select the plan that best meets your needs. Because the plans are dependent on the amount of downloads you need.
Customer Support: Users of PNGTree receive top-notch customer service. For questions or help, you can contact their support staff via email or live chat.
Conclusion
A strong platform with a huge collection of excellent graphic design resources is PNGTree. The platform is appropriate for marketers, business owners, and designers who want to improve their artistic endeavors. It is a great alternative for anyone wishing to acquire top-notch graphics and templates because of its affordable pricing and selection of subscription levels. Consider PNGTree for your upcoming creative endeavor if you're looking for a fresh design platform.
If you found the information provided to be helpful, please consider giving it a like, sharing it with others, and following us for updates on future guides.
Goodluck!