Are you looking for methods to promote your dropshipping business? In this post I will share with you the 10 most popular methods to promote your dropshipping service.
You should pay attention to my previous articles such as 7 steps to a successful dropship business and Top 8 tips to start a successful dropshipping business.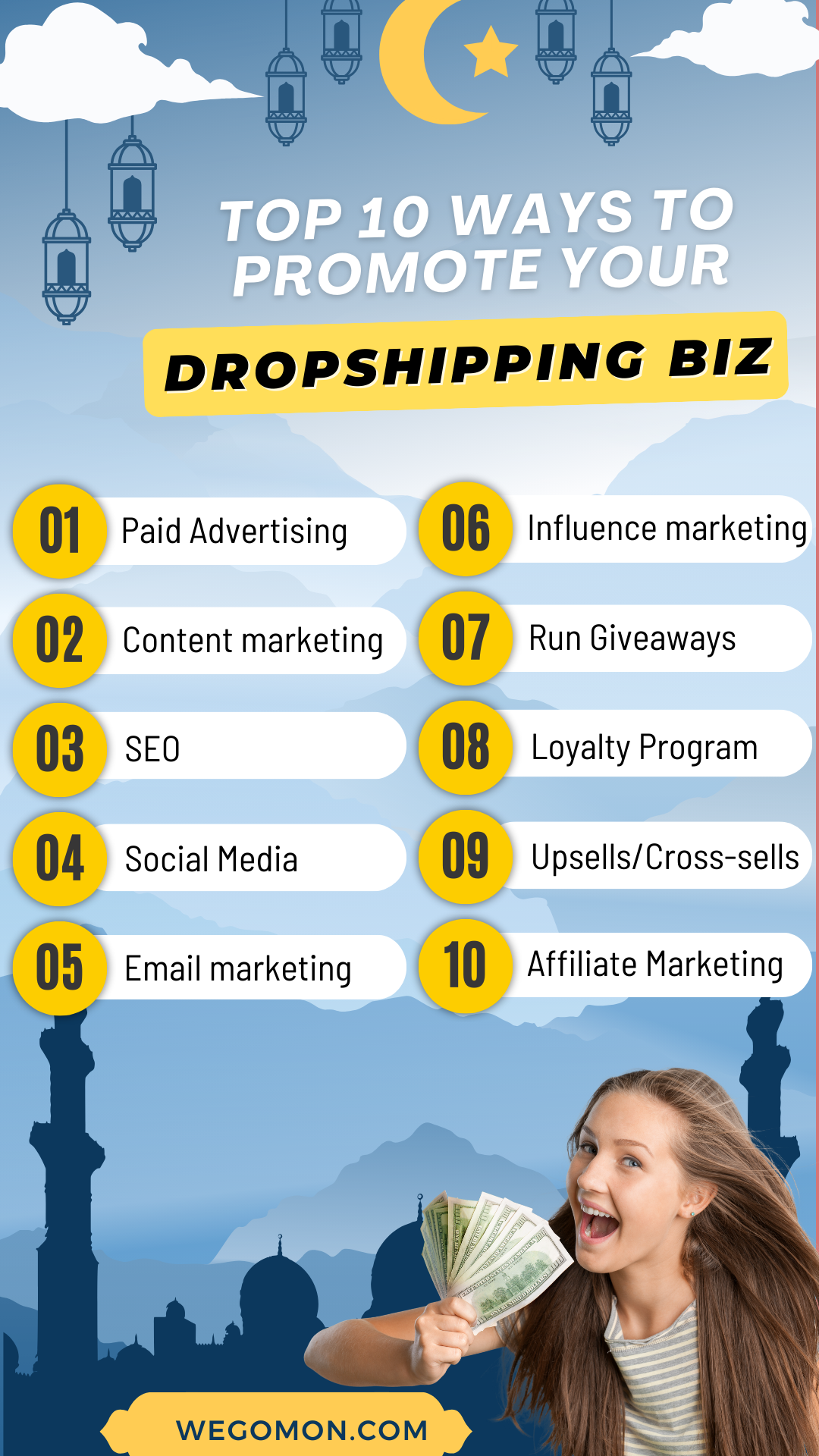 1. Paid Advertising
Paid platforms like Google Ads, Facebook Ads, and Amazon Sponsored Products allow you to display ads to specific audiences when they search for terms or browse sites related to your products. Paid search and social ads help drive immediate traffic and conversions when you need them. Targeting and testing help optimize paid spend.
– Pros: Drives immediate traffic, flexible targeting options
– Cons: Ongoing budget required, testing needed to maximize ROI
My opinions: Set small daily budgets initially, monitor conversion metrics closely, and adjust targeting over time. Don't rely solely on paid advertising long-term due to high cost.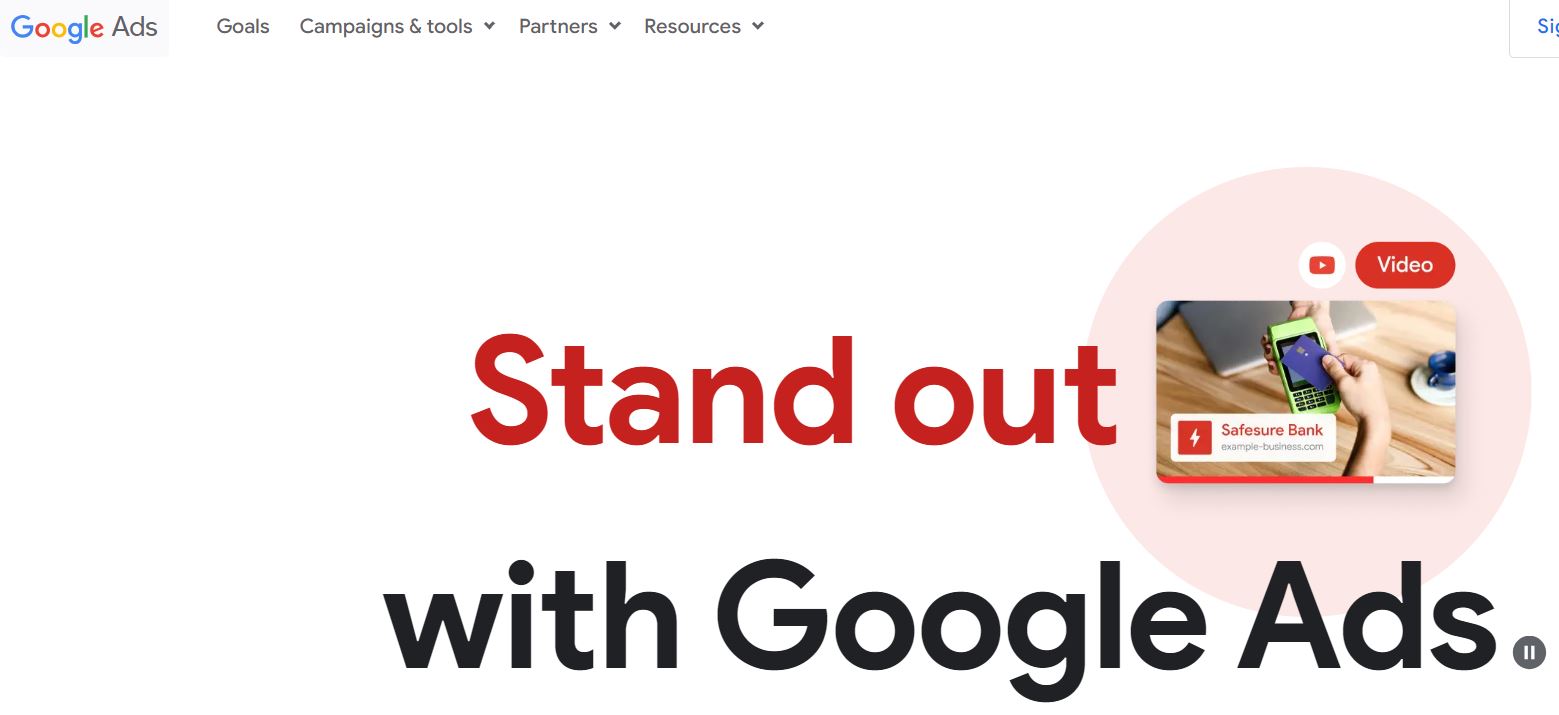 2. Content marketing
Content marketing involves creating valuable, relevant content like blog posts, videos, and infographics to attract and engage your target audience. Developing content around topics that speak to customer interests and pain points can increase your site's visibility in search engines and establish your expertise. For a dropshipping business, focus your content on providing product information, tips for customers, and industry resources.
For dropshipping stores, focus on content that:
– Targets keywords and answers questions from your buyer personas
– Provides "how-to" advice for using your products
– Highlights customer success stories and reviews
– Educates about your niche and establishes your expertise
– Promotes your products and links back to your store
Great content boosts SEO, builds trust, and positions you as an authority. Be sure to promote your content across all marketing channels.
3. Promote dropshipping by SEO:
SEO (Search engine optimization) aims to improve your site's ranking in Google/Yahoo/Bing…search results and help customers find your products through relevant search terms. This process includes optimizing page content, site architecture, metadata, and backlinks. Making your site search engine-friendly ensures customers can discover your products when searching for what you sell.
Some key aspects of SEO for dropshipping include:
– Optimizing page titles, headings, URLs, image alt text, etc. to include keywords
– Creating blog posts and other content that targets specific buyer keywords
– Getting backlinks from other relevant websites to improve domain authority
– Ensuring site speed and mobile-friendliness
– Adding schema markup to make it easy for search engines to understand your pages
By focusing on SEO best practices, you can drive targeted organic traffic to your dropshipping store from search engines. This inbound traffic converts better than other sources.
5. Promote dropshipping by Email marketing:
Email marketing is a cost-effective way to build relationships with subscribers interested in your products. You can send promotional emails, cart abandonment reminders, personalized recommendations, and more.

For successful email marketing with dropshipping, you should:
– Offer an incentive like a discount code to encourage newsletter signups
– Send welcome emails and automation flows to onboard subscribers
– Segment your list based on interests and purchase history
– Create emails with clear subject lines, appealing design, and strong calls-to-action
– Test different email content and timing to optimize open and clickthrough rates
Email is one of the highest-converting marketing channels because you are reaching a receptive audience. Just be sure to get subscriber consent and avoid spamming.
5. Social Media Marketing
Social platforms like Facebook, Instagram, and TikTok are extremely popular with many different demographics. Leveraging social media marketing can help you raise awareness of your dropshipping store and products.
Ways to use social media for dropshipping include:
– Creating visual lifestyle content showcasing your products
– Using hashtags and tagging relevant brands to expand reach
– Running paid social ads targeted to your audience with promotions
– Joining relevant social groups and discussions to engage with your niche
– Partnering with influencers in your market to promote products
The visual nature and targeting capabilities of social platforms make them ideal for dropshipping. Focus on the platforms where your target audience is most active.
6. Partner with Influencers
Influencer marketing involves partnering with popular content creators, bloggers, and thought leaders to promote your products. Given their audience reach and trust, influencers can drive significant awareness and sales.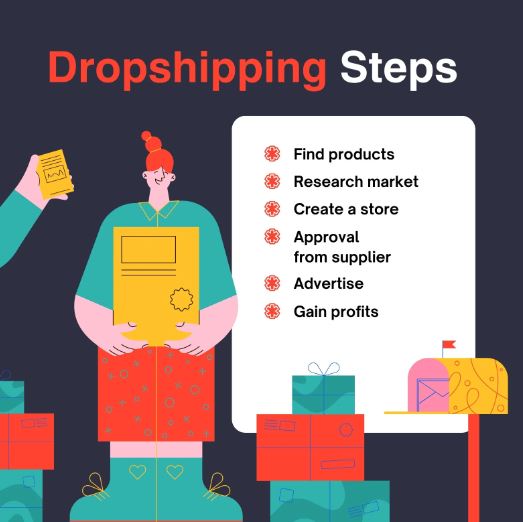 Some tips for influencer marketing in dropshipping include:
– Identifying micro-influencers in your niche with engaged followers
– Offering free products in exchange for sponsored content and reviews
– Ensuring influencer values and content align well with your brand
– Negotiating rates based on audience size, engagement, and past brand deals
– Tracking sales and clicks from influencer promos with unique codes
The right influencer partnerships can offer an authentic way to get your products in front of potential new customers.
7. Run Contests and Giveaways
Contests, giveaways and sweepstakes can create buzz and excitement about your dropshipping store. They incentivize sharing on social media, building your audience.
Tips for running promotions include:
– Requiring social sharing and email opt-ins to enter
– Offering discounts or free products from your store as prizes
– Promoting via social posts, emails, and influencers
– Keeping the entry requirements simple
– Picking winners publicly to get user-generated content
The spike in traffic, social activity, and email subscribers can give a nice boost early on. Just follow contest laws and guidelines.
8. Create a Loyalty Program
Loyalty programs reward repeat customers in your dropshipping store with perks and incentives on future purchases. This helps retain buyers.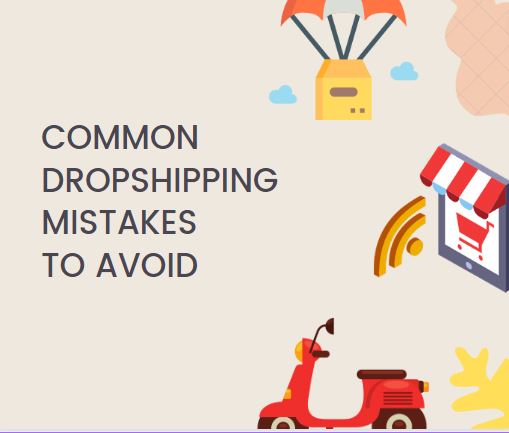 Loyalty program best practices:
– Give points for actions like signing up, reviews, referrals, and purchases
– Offer special discounts, free products, expedited shipping, and other rewards in exchange for points
– Send emails when customers earn points or reach new loyalty tiers
– Provide exclusive access to sales, new arrivals, and other perks for top tiers
Even simple programs with points tracking and special offers can increase retention.
9. Set Up Upsells and Cross-sells
Upselling and cross-selling increase order values by encouraging customers to purchase more complementary products.
Upselling tactics include:
– Offering higher-tier versions of products on the product page
– Providing add-ons like care plans and warranties during checkout
– Emailing customers post-purchase with recommendations for accessories
Cross-selling tactics include:
– Bundling products frequently purchased together
– Showing complementary products on cart and product pages
– Including related products in order confirmation and shipping emails
These techniques present customers with products they may be interested in. Just take care to not be overly aggressive with cross-promotions.
10. Utilize Affiliate Marketing
Affiliate marketing programs reward external partners who drive sales to your store. The affiliates receive a commission on any purchases their referral makes.
To leverage affiliates for dropshipping:
– Research relevant niche affiliates and reach out with partnership proposals
– Provide creatives, promo codes, and other assets for affiliates to use in promotions
– Offer competitive commission rates of 10-20%+ on referred sales
– Use affiliate management software to track referrals and handle commissions
– Promote top-converting affiliates to encourage ongoing partnerships
Affiliates with audiences interested in your products can generate substantial revenue in a scalable way.
Conclusion
Dropshipping offers an exciting business model but requires real work on marketing, branding, product sourcing, and operations. Focus on finding the right products for your audience and leveraging a mix of promotions across channels to stand out. Test different tactics to see what resonates best with your niche. With the right marketing plan, you can build a successful and sustainable dropshipping business.