What tools did you use to build your Youtube channel? Currently there are hundreds of tools, but in this article I list the top 20 popular tools as below.
Don't forget to refer to my previous articles:
– 7 steps to build a successful YouTube channel.
– Top 12 Tips to Have a Successful YouTube Channel
– Top 10 ways to promote your Youtube channel.
1. YouTube Creator Academy
YouTube Creator Academy is YouTube's free online education program. Through courses and resources, it teaches creators the skills needed to make quality content, build an audience, and earn revenue on YouTube.
Some key resources include:
– Lessons on video production, optimization, audience growth, and monetization
– Step-by-step guides and skill exercises
– Case studies from successful YouTube creators
– Live events and webinars with industry experts
Whether you're just starting out or looking to improve your channel, YouTube Creator Academy offers the training you need to achieve YouTube success.
2. ChatGPT/AI tool:
Nowadays, AI has become the most important tool for YouTube creators.AI benefits for Youtube creators:
– Enhanced video editing capabilities, allowing for seamless transitions and professional-looking content.
– Automated transcription services, saving time and effort in manually transcribing videos.
– Advanced analytics tools that provide valuable insights into audience engagement and preferences.
– AI-generated subtitles and closed captions, improving accessibility for a wider audience.
– Personalized video recommendations based on viewer preferences and behavior.
– Automated thumbnail generation to grab attention and increase click-through rates.
3. SocialPilot:
Schedule and automate your social media posts to promote your YouTube channel.
4. Social Blade:
Monitor channel statistics and track growth.
5. Epidemic Sound:
Access a vast library of royalty-free music for your videos.
6. Google Trends:
Discover popular topics and keywords to incorporate into your content.
Identify relevant keywords for video titles and descriptions.
8. Ahrefs:
Conduct in-depth SEO research and analyze your competitors.
9. TubeBuddy
TubeBuddy is a paid YouTube optimization tool used by over 2 million creators.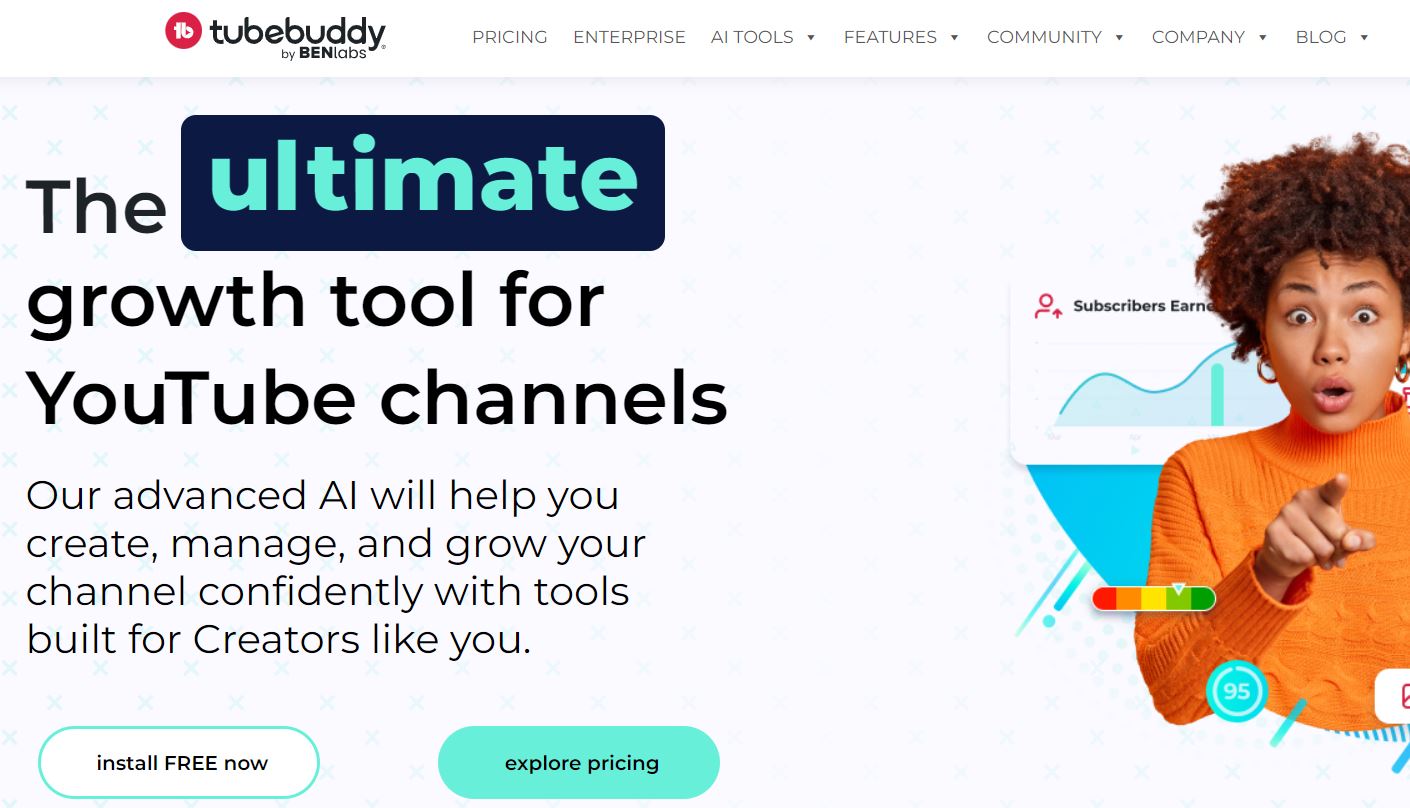 Features include:
– Keyword research to find high-traffic tags and descriptions
– Competition analysis to compare your performance against competitors
– Channel, video, and thumbnail A/B testing capabilities
– Bulk editing and uploading tools to save time
– Audience analysis to understand viewer demographics
TubeBuddy makes it easier to conduct research, A/B test content variations, and manage channel growth. The Chrome extension integrates directly with YouTube for convenience.
10. VidIQ
VidIQ is a paid tool that focuses on YouTube keyword and competitor research. Key features include:
– Finding high-traffic keywords with low competition
– Researching competitors' keyword and SEO strategies
– Viewing real-time analytics for videos and channels
– Integrations with YouTube Studio, Chrome, and other tools
– Benchmarking your channel's performance against competitors
For researching video optimization strategies, VidIQ is one of the most powerful tools available. The data it provides can help increase views and reach.
11. Final Cut Pro
Final Cut Pro offers professional video editing tools similar to Adobe Premiere Pro but is designed specifically for Mac users. Advantages include:
– Optimized performance with Mac hardware
– Intuitive and customizable interface
– Multi-cam editing with syncing and alignment tools
– 3D titling options with extensive templates
– Simplified workflows for color, effects, and audio
– Integration with external monitors and control surfaces
For Mac users who want pro-level editing capabilities, Final Cut Pro is an excellent choice combining power with ease of use. The one-time cost makes it more affordable than a Creative Cloud subscription.
12. DaVinci Resolve
DaVinci Resolve offers advanced video editing, color grading, and effects tools for free. Some standout features are:
– Compatibility across Mac, Windows, and Linux
– Real-time video effects and motion graphics tools
– Face detection and facial recognition for intelligent editing
– HDR and wide color gamut support
– High-quality noise reduction and image stabilization
– 3D visual effects compositing
DaVinci Resolve delivers an incredible amount of functionality at no cost. It's a top choice for creators seeking robust editing tools without platform limitations or monthly fees.
13. Canva
Canva is a free graphic design platform that makes it easy to create YouTube thumbnails, channel art, and graphics with no design experience required.
You can use Canva's extensive templates, fonts, photos, and illustrations to design:
– Custom thumbnails that stand out and drive clicks
– Banners, logos, and graphics to brand your channel
– Social media posts, infographics, and visual content
– Stunning video overlays, titles, and effects
With its simple drag-and-drop interface, Canva streamlines graphic design for non-designers.
14. Storyblocks
Storyblocks gives subscribers access to stock photos, video clips, and motion backgrounds for creative projects. Useful for YouTube creators who need:
– Royalty-free b-roll video footage
– Cinematic establishing shots and scene transitions
– Motion backgrounds for overlays, intros, and outros
– Tools to edit and incorporate stock footage
– Legal peace of mind against copyright claims
– New 4K video clips added daily
Finding high quality, relevant video clips can be time consuming. Storyblocks simplifies the process so creators can focus on storytelling.
15. Envato Elements
Envato Elements offers a massive library of video, audio, graphics, code, and design resources. For YouTube creators, it provides:
– Stock video clips, music tracks, sound effects
– Video project templates for intros, outros, and effects
– Graphics templates for thumbnails, titles, logos, and more
– Fonts, photos, illustrations, and 3D models
– Code snippets for website integrations
– New files added daily across themes
With unlimited downloads, Envato Elements is a cost-effective way to access a full suite of digital assets for YouTube production.
16. Artlist
Similar to Epidemic Sound, Artlist offers a subscription music service targeted towards content creators.

Benefits include:
– Music catalog updated daily across unlimited genres
– 4K video stock footage clips
– Sound effects and video overlays
– Contracts for every track ensuring claims-free usage
– Collaborative playlists to share tracks with team members
– AI assistant for finding the perfect tracks
Artlist provides not just music but also helpful stock media elements. This makes it a great all-in-one audiovisual resource.
17. Tube Analytics
Tube Analytics is a free Chrome extension providing quick access to YouTube channel analytics. It adds insights like:
– Real-time subscriber counts
– Views per day, week, and month
– Top videos and sources of traffic
– Estimated revenue and future projections
– Subscriber gained vs lost
– Traffic sources and audience geography
Tube Analytics makes key metrics readily available at a glance so you can assess your channel's performance. Easy-to-digest data helps you make smart optimization decisions.
18. Adobe Creative Suite
While Adobe Creative Suite software like Photoshop, Premiere Pro, and After Effects require paid subscriptions, they are industry-standard tools for professional video editing and design. Key benefits include:
– Powerful and versatile video editing capabilities
– Advanced special effects, transitions, and motion graphics
– Precise audio editing and mixing capabilities
– Frame-by-frame editing and multi-cam editing features
– Animation, compositing, and color grading tools
– Vector design features for graphics, titles, and more
For creators who want limitless control over their video production, Adobe Creative Suite is the gold standard. The learning curve is steep, but the payoff immense.
19. OBS Studio
OBS (Open Broadcast Studio) is free, open source software for live streaming on YouTube, Twitch, and other platforms. Notable features include:
– Flexible screen capture capabilities
– Real-time audio and video mixing
– Sources for graphics, texts, webcams, game captures, and more
– Plugin support to expand functionality
– Multi-source compositing and transitions
– Media file inputs for videos, images, and audio
For creators wanting to get into live streaming, OBS provides a flexible toolkit to assemble professional broadcasts on a budget. The interface has a learning curve, but unlocking its capabilities is worthwhile.\n\n## 10. Streamlabs OBS
20. Epidemic Sound
Finding good music for YouTube videos can be tricky due to copyright issues. Epidemic Sound offers a subscription service providing:
– Over 35,000 royalty free music tracks and sound effects
– New music and SFX added daily across genres
– Easy search and filters like mood, duration, instruments
– Legal protection against copyright claims
– Ability to monetize videos containing the music
For YouTubers who want access to legal, high-quality background music for their videos, Epidemic Sound is an excellent resource.
Conclusion
Creating videos for YouTube comes with a unique set of production needs. The right tools allow you to simplify workflows, access resources, gain insights, and maximize the performance of your content. While the options can initially seem overwhelming, the 20 tools covered above represent essential utilities for every YouTube creator's toolkit. Evaluating your specific goals and needs will determine which solutions are best suited to help you succeed on YouTube.