Welcome to our comprehensive review of HilltopAds Advertising Network. HilltopAds is a platform that links publishers and advertisers to monetise website traffic and raise brand recognition.
In this review, we will check HilltopAds' features as well as its earning potential and minimal deposit requirements. We will also address any worries regarding this ads being a scam and its industry reputation. By the end of this review, you should have a clearer idea of whether HilltopAds is a good fit for your online advertising requirements.
What is HilltopAds?
HilltopAds is a platform that links advertisers and publishers to monetise their websites and mobile apps. HilltopAds is a CPA network, which means publishers get paid depending on a specified activity, such as a sale or a lead.

Is HilltopAds a Scam?
There is no clear evidence that HilltopAds is a scam. However, like with any online site, you should always conduct your own research and due diligence before signing up. Check out internet reviews and forums to see what other people are saying about this platform.

HilltopAds Earnings
The amount of money is determined by a variety of criteria, including the volume of traffic you have, the sort of offers you advertise, and the conversion rate of those offers. Some publishers report monthly earnings of a few hundred dollars, while others record monthly earnings of several thousand dollars.
HilltopAds Sign Up As Publishers
Step 1: Go to the HilltopAds website and click on the "Publishers" button to sign up free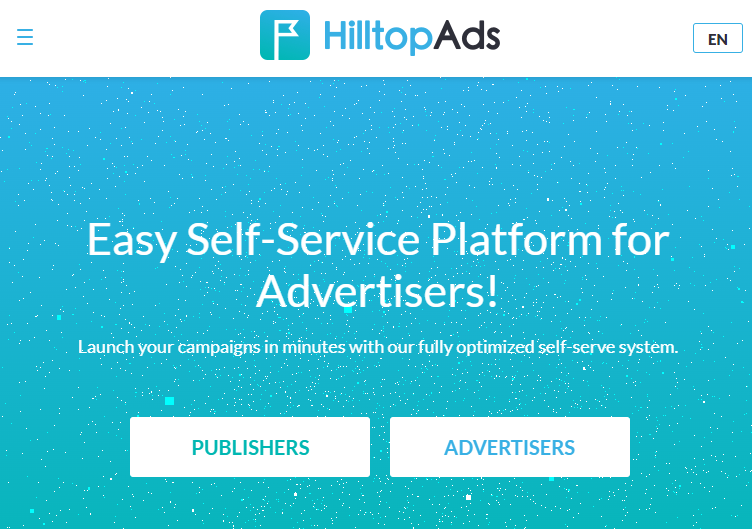 Step 2: Fill out the online application form with your personal and website/mobile app information.
Step 3: Submit your application and wait for a response.
Step 4: Once your application is approved, you will receive an email with instructions on how to access your account and start promoting offers.
Step 5: Log in to your account and familiarize yourself with the platform.
Step 6: Choose the offers you want to promote and add them to your website or mobile app.
Step 7: Monitor your earnings and performance, and make adjustments as needed.
Step 8: Reach the minimum payout threshold and request for payment.
HilltopAds Payment
HilltopAds is a Cost-Per-Action (CPA) network that pays its publishers for promoting offers on their website or mobile app. The payment process is as follows:
Step 1: The minimum payout threshold is $50. You can request payment after you've attained this level.
Step 2: You can make a payment request using your account. The option which youn can find on your account dashboard.
Step 3: This service accepts PayPal, Bank transfer, and eCheck as payment options.
Step 4: It pays its publishers on a net 30 basis. It means that payments are made 30 days after the end of the month.
HilltopAds may demand more information or evidence to verify your identification before completing a payment in specific instances. Furthermore, it reserves the right to withhold or postpone payments in the event of suspicious behavior or a breach of the terms of service.
Pros and Cons
Pros of HilltopAds
Monetization: This ad allows you to monetize your website or mobile app by promoting offers and earning money through a Cost-Per-Action (CPA) model.
Variety of Offers: It offers a wide variety of offers to choose from, allowing you to promote products or services that align with your website or mobile app's audience and content.
User-Friendly Interface:  Publishers could use friendly interface by navigating and managing their account.
Payment: HilltopAds pays its publishers on a net 30 basis, and offers several payment methods including PayPal, bank wire, and eCheck.
Cons of HilltopAds
Traffic: To earn a decent amount of money in this platform, you need to have a significant amount of traffic to your website or mobile app.
Offer Conversion: Not all offers may convert well, which can affect your earnings.
Payment Threshold: The minimum payout threshold is $50. As a resulting, you need to reach this amount before you can request for payment.
Verification: It may require additional information or documentation to verify your identity before processing a payment, and may withhold or delay payments in case of suspicious activity or violation of terms of service.
Conclusion
HilltopAds is a great option for those looking to monetize their online presence. However, it is important to note that a significant amount of traffic is required to earn significant revenue. Before signing up, it is important to research the platform, read the terms and conditions, and weigh the pros and cons.
If you found the information provided to be helpful, please consider giving it a like, sharing it with others, and following us for updates on future guides.
Goodluck!