If you're a fan of online shopping and browsing, you'll be excited to hear about Swagbucks – a company that rewards you for doing both. It is a well-known survey site that provides a range of methods to make money online, including viewing movies, testing items, and simply surfing the web.
People may earn gift cards and cash by participating in online rewards programs. As a member, you may earn between $1 and $5 every day. In this full Swagbucks review, we'll look at all of the methods to earn money with this site.
What is Swagbucks?
Swagbucks is the main product of Prodege LLC, which was created in 2005. It is based on Prodege, a renowned online and media firm that specializes in client acquisition. Swagbucks rewards its members with a variety of points that can be redeemed for e-commerce gift cards by giving a number of ways to connect with different items and companies.
If you intend to make an online purchase, you may do it through the Swagbucks website and receive points. It operates in the same manner as traditional cashback websites.
Swagbucks has approximately 20 million active members, distributes 7,000 gift cards per day, and has rewarded $703,026,861 in cash and gift cards as of April 14, 2022. With over 28,000 reviews, they are rated 'Excellent' on Trustpilot. This review discusses how Swagbucks works and how to get the most money out of your time.
FOR SURE, SWAGBUCKS IS OFFICIAL PAID SURVEY
Swagbuck sign up
Begin by establishing a free account to begin earning Swagbucks and incentives. Create a account in this platform by clicking the link below  https://www.swagbucks.com.
Then enter your email and password information and select "Sign Up Now"
How to earn money on Swagbucks :
1. Make Swagbucks your default search engine
The easiest way to start making money is to switch your default search engine to Swagbucks (not Google or Chrome). You could earn 25SB at the first step.

You'll automatically start earning points just for surfing the web as you normally would, but use Swagbucks' browser instead. If you are using this tool, you will have a chance to win a reward every time you perform a search.
For example: You click on the web item => type Youtube => You can earn 1SB
2. Accomplish daily goals
At the top of the screen you will see a button marked 'Daily Bonus'. Inside there is a 'to-do list' with several daily tasks for you to complete. When completing those tasks, you will gain a certain amount of bonuses.
3. Join surveys and polls
Completing a few quick surveys daily through Swagbucks can be a great way to earn a small income. Surveys typically take between 3 to 20 minutes to complete. The amount of SB (Swagbucks points) you earn per survey can range from 40 to 100 SB, depending on the survey. Additionally, taking the daily poll only takes a few seconds and earns an extra SB.
4. E-Shopping
In addition to watching videos, taking surveys or downloading game apps, you can earn money on Swagbucks by buying something online. It works the same way as mainstream cashback sites.
Get SB easily from local stores or e-commerce sites. Before you shell out your cash for a product, do a quick search to find out if they are Swagbuck earners or not. If they are affiliated with Swagbucks, you can get SB cashback from 1-11% depending on any service and product.
5. Swagbucks referral program
By having your friends sign up to Swagbucks with your referral code, you can earn SB points while you sleep. Not only do you and your friend get 300 SB when they sign up, but you also earn 10% of your friend's SB earnings as long as they're members. This is a great way to passively earn points and your friends will benefit too.

Swagbuck withdraw
You only need a minimum of 100 SB to be able to withdraw money (100 SB = 1 $). You can redeem SB through vouchers, Swagbucks gift cards or can be withdrawn directly to your Paypal, Payoneer wallet.
And here, it is a solid demonstration for our withdrawal on Swagbucks.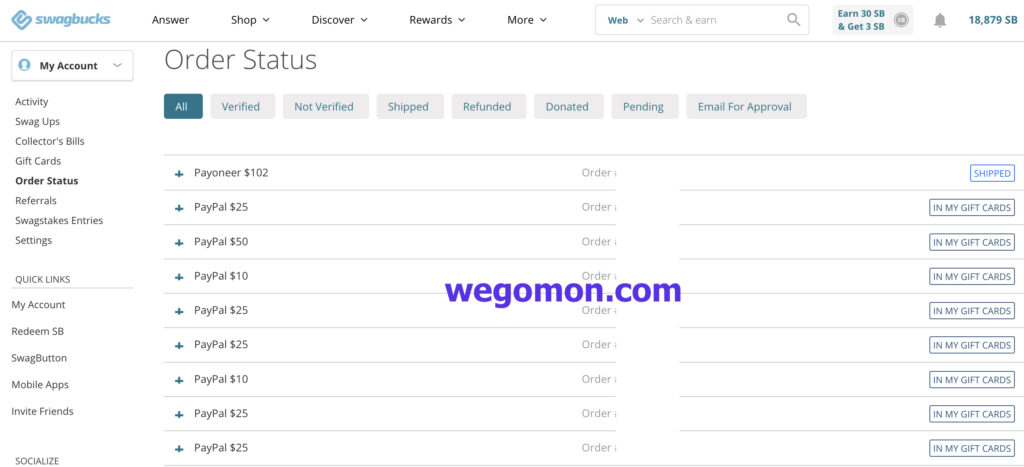 Conclusion
We have introduced you to the most detailed ways to make money on Swagbucks. How to register an account and withdraw money on Swagbucks.
If you found the information provided to be helpful, please consider giving it a like, sharing it with others and following us for updates on future guides.
Good luck!