There are dozens of legitimate paid survey websites for earning money. And you may wonder which online survey website is reliable to join. Choosing the right paying survey website can make a big difference. Therefore, it helps you not waste time on the wrong survey sites.
We examined and participated in the top 10 best online paid survey websites for getting money in this article.
1. Swagbucks
Swagbucks is an interesting rewards program that allows you to earn points by shopping online, watching videos, and participating in surveys. You may use the Swagbucks search tool to do your ordinary online browsing.
After registering, you may start earning Swagbucks (SB) points, which you can then redeem for cash back or gift cards to popular retailers. Swagbucks has hundreds of thousands of paid survey opportunities available. It is now one of the largest and most credible survey firms online.
You could read the post to understand about the way earn money form Swagbucks: https://wegomon.com/swagbucks-review-maximize-your-earnings-by-shopping-and-surfing-rewards-program/
This below image depicts our actual Swagbucks earnings and cashouts.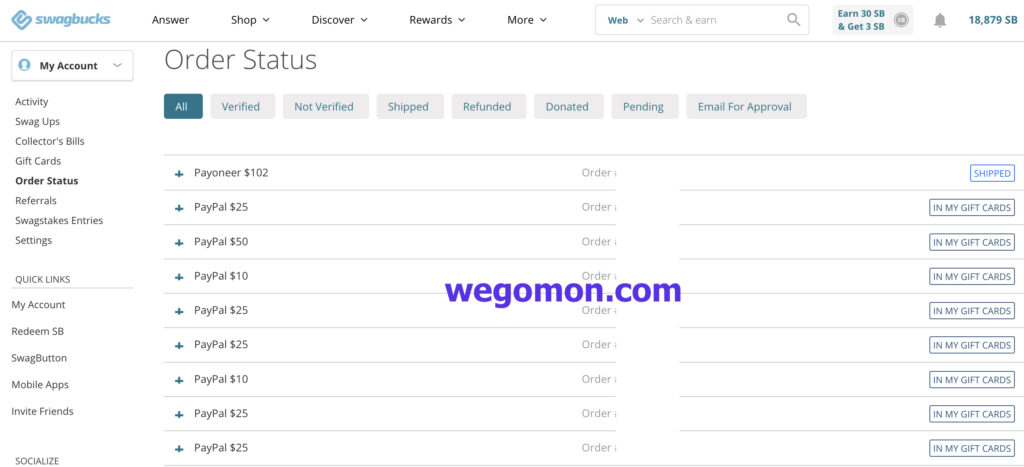 2. ySense
We can't overlook ySense when it comes to reputable survey websites for making money. Each poll on ySense costs between $0.5 and $5. The benefit of ySense is that you may withdraw money in a variety of ways, including prominent platforms like PayPal, Payoneer, Skrill, Paytoo, and Tango Card. Click to the link to find out how to earn money on ySense: https://wegomon.com/make-money-fast-on-ysense/
Here is demonstration about our earning and cashout

3. LootUp
In terms of making money, LootUp is similar to the two survey sites above. One of the benefits of LootUp is that you may withdraw to your Paypal account once you have earned $1. The best aspect is that there are no costs associated with converting points for cash. Furthermore, gift card and PayPal redemption will be completed and paid out as soon as possible. If you use Coinbase to exchange Bitcoin, the process will take about five working days. Please enter the link to get more information about LootUp: https://wegomon.com/tips-to-get-5-instantly-into-your-lootup-account/
Here is the proof that we have withdrawn money from LootUp.

4. Survey Junkie
Although being a minor survey aggregator, this website is unique. The website offers a high point value for each survey you complete and features a simple, user-friendly dashboard. The point system is straightforward and displays your points' money value immediately on the dashboard. But before you can cash out, you must reach 500 points. Average earnings in Survey Junkie are $1.57 per hour.
5. Vindale Research
Vindale Research is a reputable market research firm that offers consumers the chance to earn money incentives for doing surveys and completing other easy tasks. It's a respectable way to make money online because there are no membership fees and clear benefits. Users should be aware that Vindale Research surveys typically pay between $0.25 and $2.00, which is a pretty low rate. In addition, some users have complained that it's possible that they don't always qualify for surveys, which can be annoying. Vindale Research is a convenient approach to earn some additional money in your leisure time, even though it might not be the most rewarding option for everyone.
6. Pinecone Research
A prestigious market research firm that pays well for online surveys and product testing is Pinecone Research. Pinecone Research is a reliable way to get money online with rewards ranging from $3 to $5 per survey and a reputation for providing pertinent and interesting surveys. However interested people might not be able to join because the company only accepts invitations. Pinecone Research may not offer as many surveys as other market research firms, which may reduce the opportunity for users to make money. Despite these drawbacks, Pinecone Research remains a reliable and possibly profitable choice for people trying to make money through market research.
7. Toluna
A reputable opinion portal that represents top businesses. They are interested in learning your opinions on a variety of goods, services, and problems. You are rewarded in exchange! It takes roughly 15 minutes to complete each survey. In total, earning a £15 gift will therefore take about 4 hours.
8. Harris Poll Online
A reputable market research firm, Harris Poll Online, offers a range of polls on many subjects, such as politics, consumer goods, and social issues. The company offers a mobile app for users to participate while on the go, and users can earn incentives in the form of gift cards to well-known retailers. The surveys can, according to some users, be tedious and they don't always qualify, which can be upsetting. Also, the incentives for each survey differ and might not always be as generous as those offered by other market research firms. Notwithstanding these drawbacks, Harris Poll Online is a trustworthy and practical approach to profit from market research.
9. Ipsos iSay
This website exclusively offers surveys through its owner, Ipsos, a market research company. Although the site offers fewer questions than aggregators do, you stay on iSay for each poll, simplifying the process overall. It can be perplexing when surveys you've already attempted are displayed. Average earnings in Ipsos iSay are about$1.01 per hour.
10. Opinion Outpost
Opinion Outpost is not like other survey websites that inundate visitors with possibilities and information. We completed survey after survey on its user-friendly website without giving them much thought. As new users, we also valued the website's simple points system, which costs 10 cents each point. Most significantly, we actually turned a profit. On Opinion Outpost, we earned an hourly average of $1.50, which we were able to cash out on Amazon.
Taking surveys to make money from these websites is completely legal.
Conclusion
We only list top three paid survey sites for getting money in this post. Many sites are still in the testing phase right now. When we are completely certain, we will share them with you.
If you found the information provided to be helpful, please consider giving it a like, sharing it with others and following us for updates on future guides.
Good luck!