Currently, there are many survey websites that help you make money online. However, not all survey sites bring good income. In this post, we will introduce you to the LootUp paid survey.
This is a website that can earn money at the step of creating an account and registering on LootUp in the first days. Some typical ways to make money on LootUp, can be up to $10/day.
What is LootUp?
LootUp is developed by Adscend Media LLC, behind the famous offer wall found on many GPT platforms. You can earn cash or gift cards by completing simple daily tasks.
As a member, you'll earn points by watching videos, playing games, taking online surveys, etc. You can then redeem these points via PayPal, Amazon gift cards and other different withdrawal methods.

How to register an acount in LootUp
Signing up for LootUp is easy and free. You can join the platform by providing your name and email or by logging in with your Google or Facebook account. Registration is free and you must be at least 18 years old to join.
You can click here to create an account  https://lootup.me
When you get to the registration page, fill in your correct information. Immediately after that click on the link to verify and validate your email (This earns you 5 points).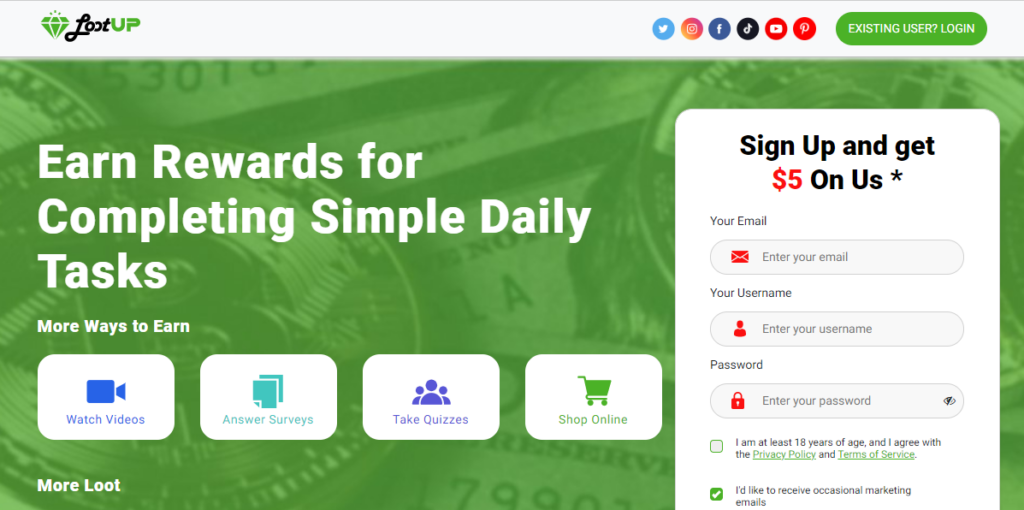 Then, complete tasks such as watching videos, watching LootUp on social networking sites such as Youtube, Facebook, Instagram.

How to earn money on LootUp
You can make money from LootUp in many different ways. In fact, the array of monetization options is one of the factors attracting users to the website. Specifically, you can get points by completing surveys, making offers, watching videos and inviting people you want to make money online to join the site.
1. Watching video
Watching videos and making money at the same time is interesting, isn't it? This survey offers a wide variety of videos with different topics such as pets, music, etc. Your income from watching videos is not high but it is a quick way to get rewarded. HideoutTV is the go-to source for many of the videos you watch on LootUp.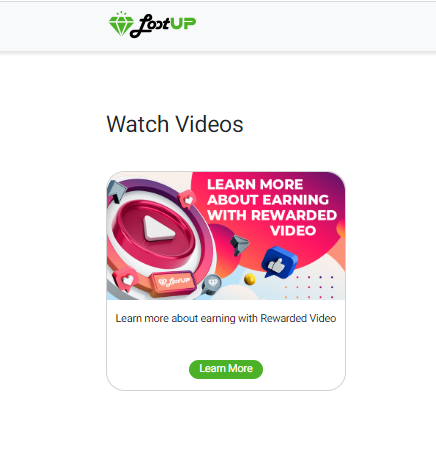 2. Complete surveys
Many surveys ask for feedback from consumers about a particular product or service. They have a different length and topic questions about a particular topic.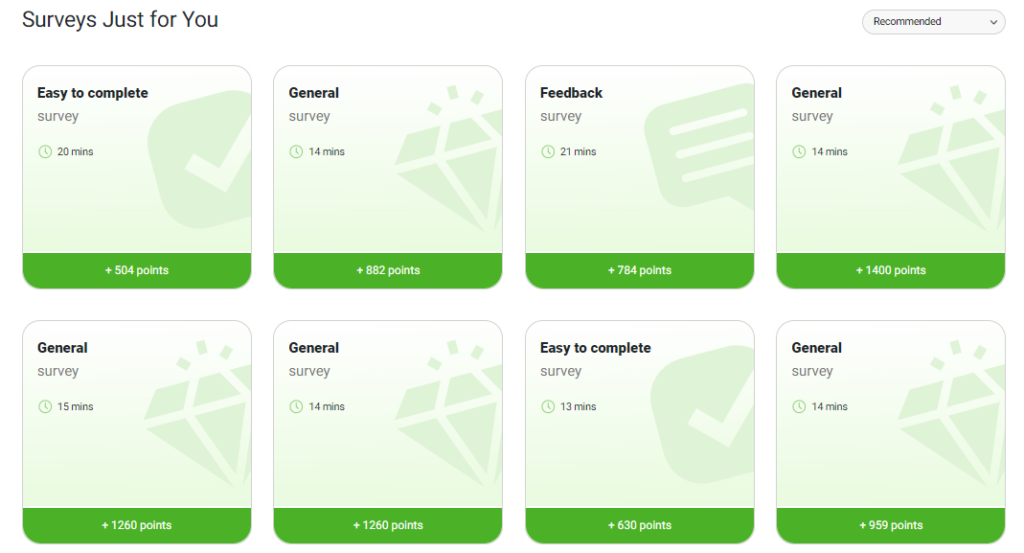 Survey earnings will automatically be added to your account once you complete the survey. To get as many survey invitations as possible, you should complete your profile.
Your profile will ask for information about your interests and even your income. Your profile will help match information to surveys as they become available. In addition, you will get 50 points for completing the questions.
3. Join giveaways
LootUp provides paid offers with some simple tasks that you can do to earn points. Take quizzes and try out new apps, for example. You won't find as many offers as on some other (GPT) sites, but there's still enough for members to have more variety in how they make money. Offers pay from 70 to 1000 points.
4. Contest
LootUp has a leaderboard that shows how many points members have earned for making offers. Every week, they give bonuses to the member who earns the most points doing these offers. In this contest, the winner gets 100,000 points per week.
LootUp also has a monthly contest. The winner is the member who earned the most points from the offers during that time. Prizes up to one million points.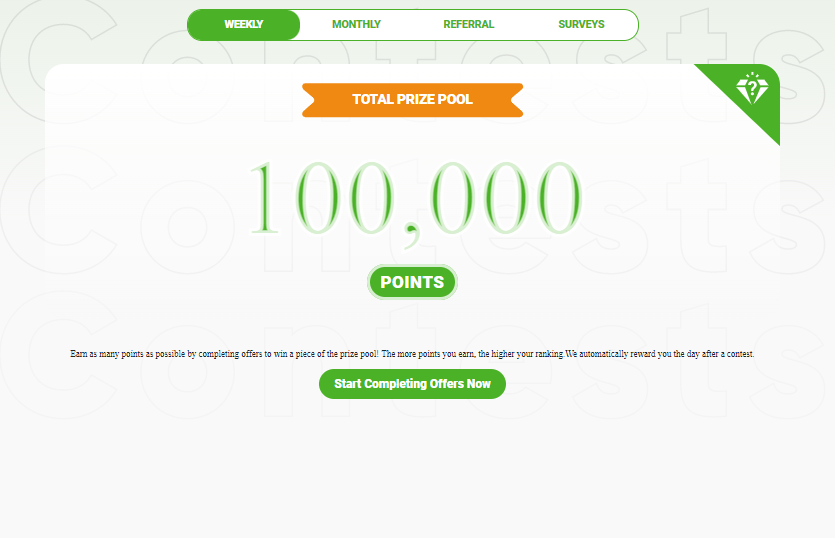 5. Lucky spin the wheel
If you like a lucky game like spinning the wheel, you can join the day on this platform. And one day, you get 1 spin. Your prize is calculated as a percentage of the points that you have earned in the last 24 hours. Example: If you spin the wheel and get 50% bonus on 200 points, then your bonus will be 100 points.
6. LookUp referral
When you invite friends to join LootUp through the link you refer to, you will receive a bonus on the site. Your referral bonus is 10% earnings of each referral if you have less than 500 referrals. If your referrals increase to 500, your bonus percentage will also increase. Members with 500 or more referrals earn 15% of what they earn from their referrals.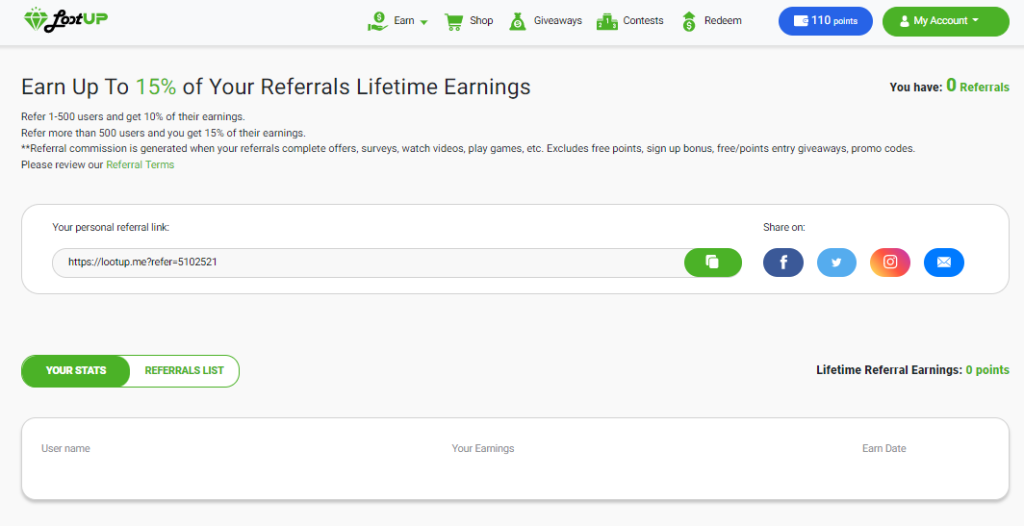 LootUp withdraw
When you earn 1000 points, you can exchange it for 1$. Redemption methods include gift cards and Paypal. You can choose the form that best suits you. Money will be in your account in 3-5 working days.
And here, it is a solid demonstration for our withdrawal on LootUp.

Conclusion
We have introduced to you how to increase income on LootUp platform. Share how to register, earn and withdraw money in the simplest way.
If you found the information provided to be helpful, please consider giving it a like, sharing it with others and following us for updates on future guides.
Goodluck!