Are you tired of spending hours writing content for your business, only to end up with mediocre results? If yes, you might want to think about using Writesonic, an AI-powered content creation tool that can assist you in quickly writing high-quality material.
In this Writesonic review, we'll take a closer look at the software's features, pricing, and overall performance to help you decide if it's the right tool for your business.
What is Writesonic?
An AI-powered content creation tool called Writesonic makes it easier to write content. It analyzes your input using sophisticated algorithms to produce excellent content. Businesses and individuals may swiftly produce various content kinds. To be more specific, it includes blog entries, product descriptions, and social networking postings, using Writesonic. To facilitate the development of content, the software has a number of capabilities including built-in plagiarism detection, tone and style adjustment, and topic suggestions.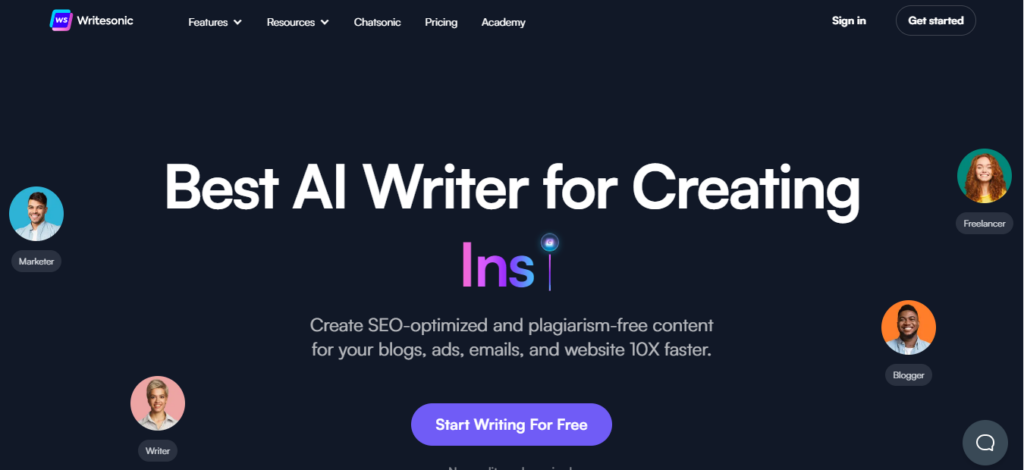 Writesonic Sign up
Step 1: Go to the Writesonic website: https://writesonic.com/
Step 2: Click on the " Get Started" button at the top right corner of the page.
Step 3: Choose a plan that fits your needs and budget.
Step 4: Enter your name, email address, and a password to create an account.
Step 5: Click on the "Sign Up" button to complete the registration process.
Once you have registered, you will be taken to the dashboard, where you can start creating your first piece of content.
Writesonic Features
Writesonic is an AI-powered writing assistant. It helps content creators generate high-quality content quickly and easily. Some of the key features of Writesonic include:
AI Content Writing: Writesonic uses advanced machine learning algorithms to analyze your topic and generate unique content that's optimized for SEO.
Content Creation Tools: The software includes a range of content creation tools such as article outline generator, blog post title generator, and social media post generator.
Plagiarism Checker: The software has a built-in plagiarism checker that helps ensure that your content is original.
Multilingual Support: It supports multiple languages, including English, French, German, Spanish, Italian, Dutch, and Portuguese.
Tone Adjuster: The software allows you to adjust the tone of your content to suit your audience.
Grammar Checker: This service includes a grammar checker that ensures your content is free from errors.
SEO Content Optimization: The software can help you optimize your content for SEO, with tools such as keyword analysis and meta tags generation.
Unlimited Revisions: You can revise and edit your content as many times as you need to get it just right.
Writesonic Pricing
Writesonic offers three different pricing plans designed to fit the needs and budgets of different users.
Free Trial: This plan provides access to all core features and allows you to generate up to 6,250 words per user.
Long-Form Plan: You need to pay 12,67$ for this option. This plan includes all core features as well as access to more advanced features and allows you to generate up to 47,500 words per user.
Customer Plan: Depends on your services that you need. It will provide small to medium-sized businesses and provides access to all features, including unlimited credits.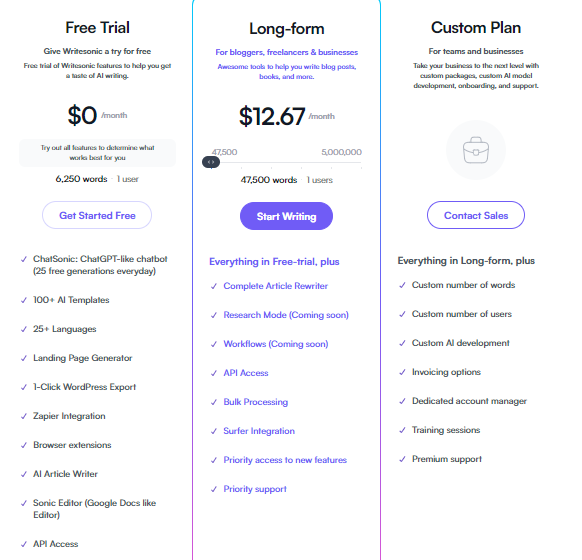 Conclusion
Writesonic is definitely something to think about if you're searching for a content creation tool. This may assist you in producing high-quality material swiftly and easily. It's a fantastic solution for organizations of all sizes because of its AI-powered writing assistant and user-friendly interface.
Thus, give this platform a try right away by signing up an account if you are preparing to streamline your content creation process and elevate your material.
If you found the information provided to be helpful, please consider giving it a like, sharing it with others, and following us for updates on future guides.
Goodluck!