An AI-powered writing assistant called MarkCopy AI aims to make it quick and simple for content producers to write high-quality, SEO-optimized material. It can assess your topic, create original material, and optimize it for search engines using its cutting-edge machine learning techniques. But is it actually the best writing tool for content producers? 
In order to assist you decide if MarkCopy AI is the correct choice for you, we'll give a comprehensive view about the software's features, costs, and performance in more detail.
What is MarkCoppy Al?
By producing high-quality, SEO-optimized content fast and effortlessly, MarkCopy AI is an AI-powered writing helper application. For organizations and marketers who need to produce a lot of material quickly, the software evaluates the subject, produces original content, and optimizes it for search engines. To assist content creators with producing high-quality content quickly and easily, MarkCopy AI offers a variety of capabilities. They are content creation tools, a plagiarism checker, multilingual support, tone adjustment, grammar checking, and SEO content optimization tools.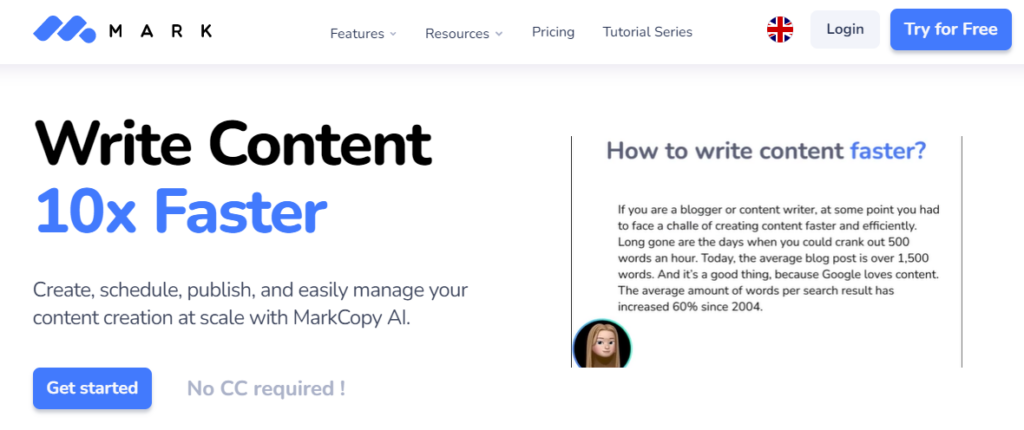 MarkCoppy Al Sign Up
Step 1: Go to the MarkCopy AI website
Step 2: Click on the "Try for Free" button on the homepage
Step 3: Create an account by filling in your email address, username, and password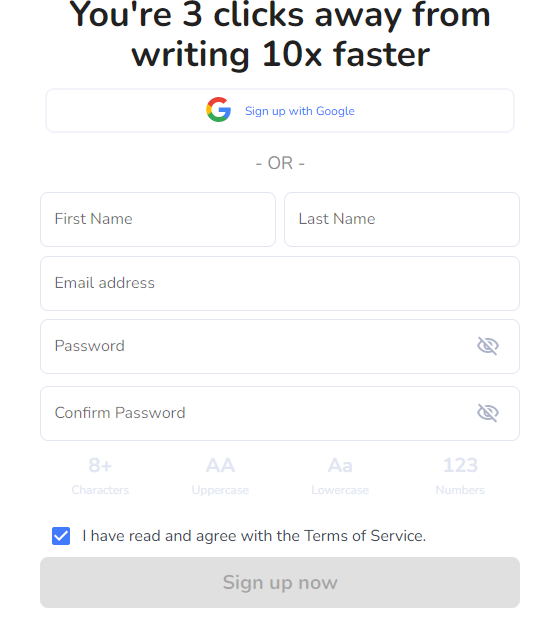 Step 4: Verify your email address by clicking on the link sent to your email
Step 5: Once you are logged in, you can start using the MarkCopy AI platform
You can try out the software with a free trial from MarkCopy AI before committing to a commercial plan. Besides, you can examine the features and tools offered during the trial period to discover how the software can assist in swiftly and effortlessly producing high-quality material.
MarkCoppy Al Pricing
MarkCopy AI offers several pricing plans, both monthly and yearly, to meet the needs of different users.
Monthly plans: 
MarkCopy AI offers three pricing plans to choose from:
Starter: $24/month 

Pro: $59/month
Business: Need to contact to customer service to know clearly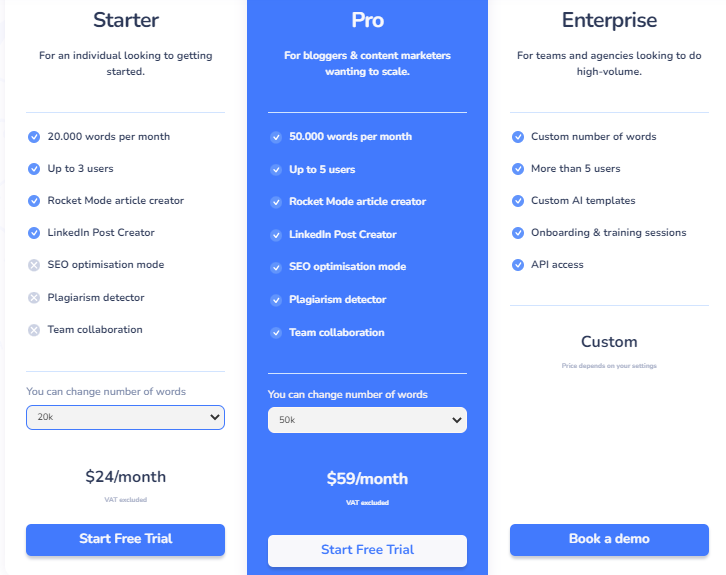 Yearly plans:
Starter: $456/year (equivalent to $19/month)

Pro: $1128/year (equivalent to $ 47/month)

Business: Need to contact to customer service to know clearly

MarkCoppy Al Pricing for yearly
MarkCoppy Al Features

AI Content Writing: MarkCopy AI's advanced machine learning algorithms can analyze your topic and generate high-quality, unique content that's optimized for search engines. Whether you need blog posts, social media updates, or website copy, MarkCopy AI can help you create it quickly and easily.
Content Creation Tools: The software comes with a range of content creation tools such as article outline generator, blog post title generator, and social media post generator. This makes it easy to create different types of content for a variety of purposes.
Plagiarism Checker: MarkCopy AI includes a built-in plagiarism checker that ensures your content is original and free from any duplicate content issues. This can help you avoid penalties from search engines and maintain the integrity of your content.
Multilingual Support: The software supports multiple languages, making it ideal for businesses and marketers targeting a global audience. Whether you need to create content in English, French, Spanish, or any other language, MarkCopy AI has you covered.
Tone Adjuster: MarkCopy AI allows you to adjust the tone of your content to match your brand's voice and target audience. This can help you create content that resonates with your readers and helps you achieve your marketing goals.
Grammar Checker: The software includes a grammar checker that helps ensure your content is free from errors. This can help you maintain a professional image and avoid embarrassing mistakes.
SEO Content Optimization: MarkCopy AI can help you optimize your content for search engines, with tools such as keyword analysis and meta tags generation. This can help you improve your search engine rankings and drive more traffic to your website.
Conclusion
A powerful content creation platform like MarkCopy AI can make it simple and quick for companies and individuals to produce high-quality content. This platform is a must-have tool for anybody trying to create interesting and effective content thanks to its cutting-edge AI algorithms, content creation tools, and other helpful features. Sign up an account to try the best experiences right now.
If you found the information provided to be helpful, please consider giving it a like, sharing it with others, and following us for updates on future guides.
Goodluck!