Anstrex is a potent adspy product that aids marketers in discovering the most effective social media advertisements. It allows customers to keep track of the campaigns of their rivals and offers thorough information into the effectiveness of advertisements. 
We'll look at how to join up for Anstrex, how to use its features, and some pointers for getting started with the platform in this post.
What is Anstrex?
Anstrex is a well-known competitive intelligence platform that offers companies information and insights on the online advertising strategies of their rivals. Businesses can monitor the advertisements of their rivals on a variety of platforms. It includes Google, Facebook, and other well-known advertising networks, by using the robust tools provided by Anstrex.
You may learn a lot about what is effective in your business and how to improve your own advertising efforts by examining the advertising techniques of your rivals. For companies trying to keep ahead of the competition and succeed with their digital marketing initiatives, it is a useful tool.
Anstrex Sign up
Anstrex is a well-known competitive intelligence software. It offers insights on advertising campaigns to assist companies keep one step ahead of their rivals. The steps for registering for Anstrex are as follows:
Step 1: The first step is to go to the Anstrex website. You can use any web browser on a computer or mobile device to visit this website.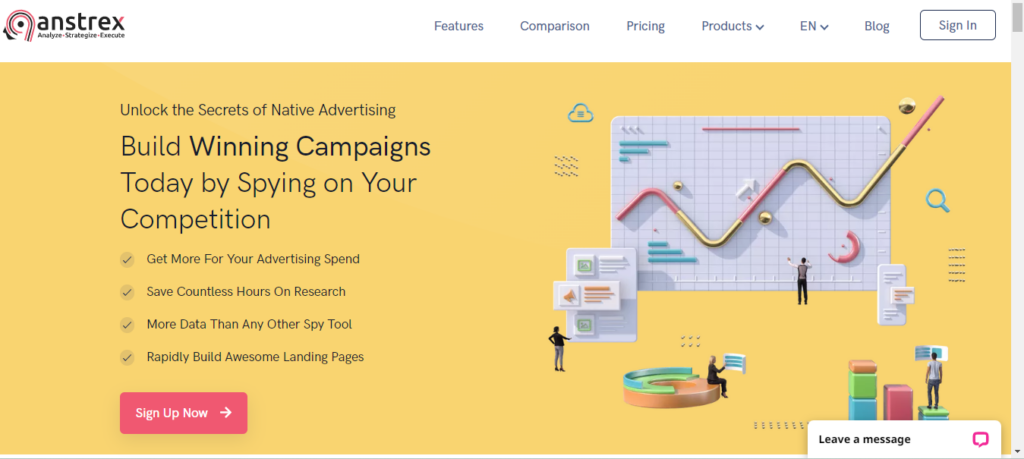 Access to Anstrex
Step 2: On the Anstrex homepage, you will see a "Sign Up Now" button at the top right corner of the page. Click on it to proceed to the sign-up page.
Note: It is quite hard to confirm that you are human. Be carefully.
Then, you should fill all needed information.

Step 3: Select your Anstrex plan from among the Native, Push, Pops and Dropship options available. Pick the program that best fits your requirements and financial situation.
Step 4: Please enter your contact information. You must provide your contact details, such as your name, email address, and password. To protect your Anstrex account, use a strong password.
Step 5: If you chose a paid plan, you must provide your payment details, such as your credit card or PayPal account information.
Step 6: Before completing your sign-up, check your order to make sure you have chosen the right plan and supplied the necessary payment information.
Step 7: To complete your registration, click "Complete Order".
Anstrex Pricing
Anstrex offers three different pricing plans to suit businesses of all sizes: Basic, Power, and Pro. Here's a breakdown of each plan and what they offer:

Solo plan: Access to all of Anstrex's essential features, including ad spying, landing page espionage, ad network targeting, and more, is available with this plan. It costs $69.99 per month at the time of writing. 
Bundle and Save plan: The features in Bundle and Save plan includes all the features of Solo plan. It has a monthly price of $139.99 but also offers some extra perks. This strategy is perfect for companies who wish to advance their competitive intelligence.
Ultimate Combo and Savings plan: All the features of the Bundle and Save plan are included in this plan. It has a monthly starting price of $219.99 but also offers some extra perks. 
You may test out the platform and its features with Anstrex's 2-day, $1 trial before committing to a plan. You can cancel your subscription during the trial term and not be charged if you're unhappy with the site.
Conclusion
Anstrex is an effective platform for competitive intelligence that offers insightful data on digital advertising campaigns. You can spy on the ads of your rivals and improve your own campaigns by creating an account with the company and using its AdSpy tool. It is a well-liked option among digital marketers trying to boost their advertising efforts due to its user-friendly interface and competent customer care. Sign up an account to get the best experience.
If you found the information provided to be helpful, please consider giving it a like, sharing it with others, and following us for updates on future guides.
Goodluck!